On June 30th, International Office organized the summer vacation online meeting of safety education for international students in GCUT. Zhang Fengchun, director of International Office and related persons in charge attended the meeting.
At the meeting, Huang Huijing, in charge of international students programs, expressed greetings to international students in Indonesia on behalf of International Office, asked their situation about final examination and daily life, and conveyed concern and support by GCUT. Then, despite the COVID-19 pandemic is undergoing many twists and turns, the situation in Guangzhou is getting better with prevention and control efforts resulting in important progress at this stage, Huang Huijing defined the necessity of epidemic control in summer vacation for them, stressed related pandemic control process including online health daily report, daily prevention, and vaccination of COVID-19 vaccines etc, require all students to report health condition about their own and families, and strengthen health monitoring to implement "daily report and zero report". In addition, she conveyed relevant policies and arrangements about summer vocation and online teaching and expressed that GCUT would publish relevant notice in time.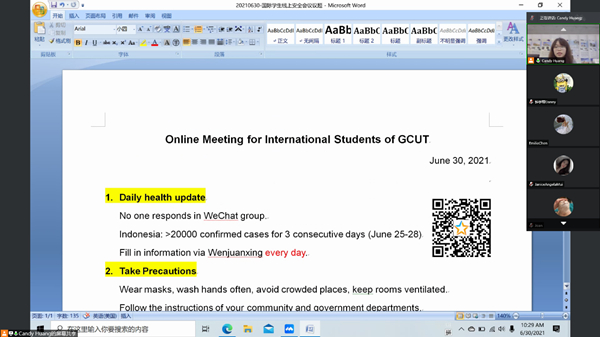 All international students expressed their understanding and recognition, and expressed their gratitude to GCUT for its concern. They also promised to comply with regulations.
GCUT attaches great importance to the management and service of international students. Now, there are 13 international students in GCUT. Since the outbreak of COVID-19, we have conducted online teaching and presented some relief materials.