On September 13, the 2021 opening ceremony of Guangzhou City University of Technology (hereinafter called GCUT) was held in sports ground. Du Xiaoming, secretary of the Party committee of Guangzhou City University of Technology, Li Zheng, vice president of of South China University of Technology, Huang Zhenyu, president of Guangzhou Zhujiang Yunfeng Investment Holding CO., LTD, Wu bo, president of Guangzhou City University of Technology, Liang Guojie, vice president of Guangzhou Zhujiang Yunfeng Investment Holding CO., LTD, Wang Ruisong, president assistant of Guangzhou Zhujiang Yunfeng Investment Holding CO., LTD, and Zhou Shiyao, Lin Ying, Liu Jianbo, Shang Qichao, vice president of Guangzhou City University of Technology attended the ceremony. The ceremony was hosted by Zhou Shiyao.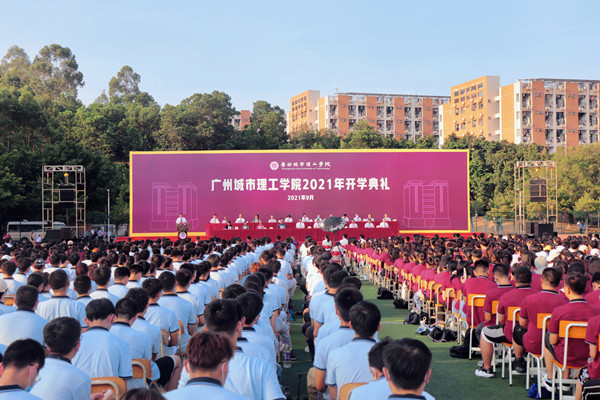 The 2021 opening ceremony started with the majestic national anthem.
Liu Bo gave a speech themed by Being Strivers with the Times as the first class of the new semester. Combining with school reality, Wu Bo explained school running achievement of GCUT exampled by outstanding typical cases. He pointed out that GCUT is a university oriented for Guangdong-Hong Kong-Macao Greater Bay Area and coordinated with regional economic and social development firstly. Secondly, GCUT places great emphasis on the combination of theory and practice and our talents quality is widely recognized by society. Thirdly, GCUT insists on high-level applied research and tries our best to make results spread all over our motherland. Dominated by applied research, GCUT continuously deepens the cooperation with enterprises, industries and local governments, achieves a large number of scientific researches of high quality, and makes positive contribution for local economic and social development.
At the opening ceremony, president Wu Bo also gave a lecture about First Ideological and Political Lesson. He pointed out that our students born in an age of prosperity and have our own great mission, we should follow the new age and make contribution to the prosperity of the country and the rejuvenation of the Chinese nation.
Wu Bo proposed two expectations for freshmen of 2021. First, be confident in your path and be honest in your life. Second, enhance innovation and pursue excellence. He hoped our students can seize opportunities, make our country's need as our own orientation. He also encouraged students to combine personal ideal pursuit with national great cause and to implement great ambition into daily practical actions, being students with drive and ambition and realizing your dreams in GCUT.
Yue Suwei, Excellent Teacher of Guangdong, gave speech as the representative. He encouraged freshmen to look up at the stars, work tirelessly and think diligently, be people with strong sense of self-confidence, self-improvement and self-reliance, with good conduct and with spirit of unity and friendship. He hoped students of GCUT to aspire to serve our motherland and our people.
Chen Chuanxi, junior student of school of management, shared three key words — mission, goals and action. He inspired young people to brave hardships, move forward and overcome the difficulties, writing a new chapter in the flower of your youth.
Zhao Jieting, representer of the new students shared her plan in the following four years. She talked about the new start of her life and promised to face the new challenge with confidence and courage.
"Our journey ahead will be a long and arduous one. But as long as we press ahead with a sense of perseverance, there will be much to expect. " vice president encouraged at the ceremony, "This year marks the 100th anniversary of the founding of the Communist Party of China (CPC), we should forge ahead on a new journey to the great rejuvenation. All of us should build the noble ideal and undertake the responsibility of the times, devote our youth to the cause of the Party and the people and enrich ourselves, strive ourselves, improve ourselves and achieve ourselves, to live up to the promise of our youth and the expectations of our times and to be people with ambition, morality, ability and responsibility, making our due contributions to rejuvenating the Chinese nation."
This year, every student received a T-shirt with school logo, they wore the T-shirt and sat orderly on the playground. Thirteen different colours of T-shirts displayed dynamic spirit and upward youthful vigor.