In order to actively respond to carbon peaking and carbon neutrality goals, implement energy conservation and emission reduction, build resource-conserving and environment-friendly university, promote the construction of green campuses, cooperation between colleges and enterprises and sustainable development of university, on March 18, Feng Kanghua, secretary of the Party committee and president of Guangzhou Development New Energy Company Incorporated and his accompanying persons came to Guangzhou City University of Technology to signed agreement on strategic cooperation projects. Du Xiaoming, secretary of the Party committee of GCUT, Shang Qichao, vice president of GCUT and related principals attended the signing ceremony.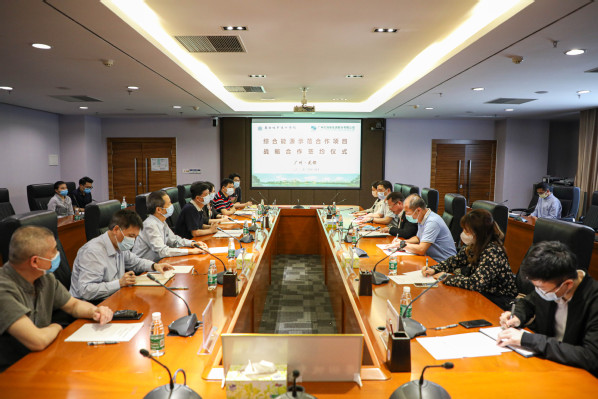 Feng Kanghua introduced current conditions, development prospect and cooperative willingness of Guangzhou Development New Energy Company Incorporated. He expressed that GCUT focused on the development of regional industry and the construction of new engineering disciplines, actively promoted the docking of discipline chain, specialty chain and industrial chain, and combined the business and talents demand of companies, which showed the characteristics of GCUT. He also hoped to deepen cooperation between GCUT and Guangzhou Development New Energy Company Incorporated. Meanwhile, he put forward good cooperation projects in jointly building practice base, building order for talent training, improving matching rate for skilled personnel training and enterprise demands, carrying out professional training for staffs by education resources of GCUT, and jointly building green and low-carbon campus.
Du Xiaoming expressed cordial greetings and heartfelt gratitude to all guests on behalf of GCUT. He expressed that building partnerships with Guangzhou Development New Energy Company Incorporated is a huge improvement for GCUT. He introduced conditions in talents cultivation of GCUT, and characteristics in serving the national economic strategy, the Guangdong-Hong Kong-Macao Greater Bay Area economic and social development. He agreed with Feng's cooperative projects and pointed out that cooperation with enterprise and integration of enterprises with universities are development goals of GCUT. He hoped to reinforce complementarity between both, share resources and realize a win-win situation to provide a broader, more dynamic and frontier platform for study, research and creative platform.
At last, Du Xiaoming and Feng Kanghua signed a strategic cooperation agreement.